INDIGO SUTRA Programme
SEMINAR - 9TH AND 10TH NOVEMBER
WORKSHOPS - 11TH AND 12TH NOVEMBER
Workshops on Natural indigo (some combined with other natural dyes) and textile techniques are being organised.
Venue of the Workshop:

Workshops will be held in conjunction with
J. D. Birla Institute of Sciences
11 Lower Rawdon Street,
Kolkata-700020.
Tutors include:
Indigo Vat making and dyeing
Surface Decoration
INDIGO SUTRA WORKSHOPS DETAILS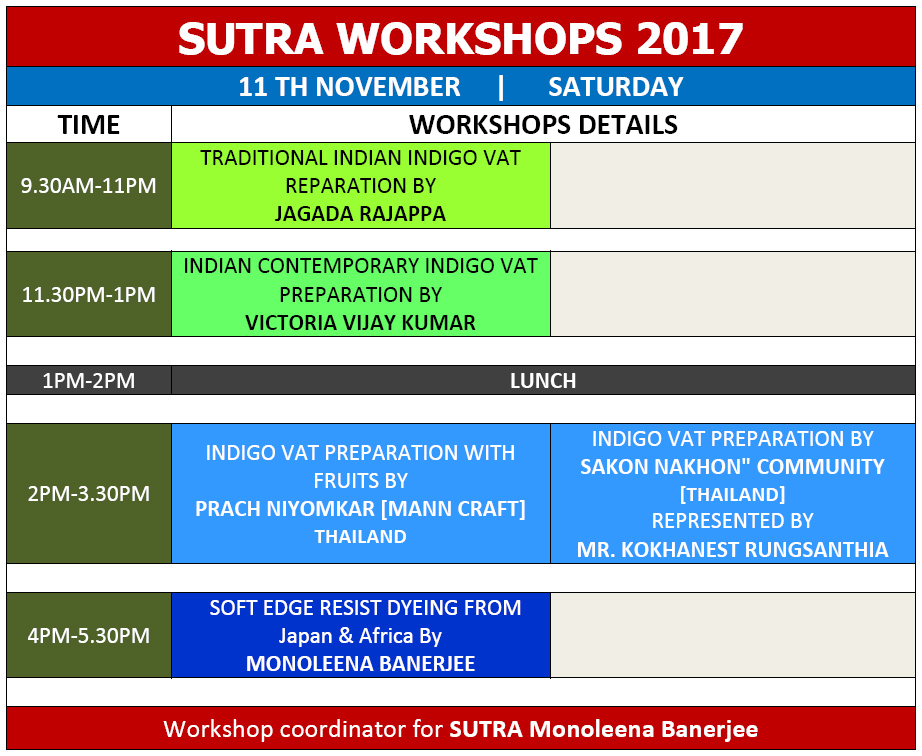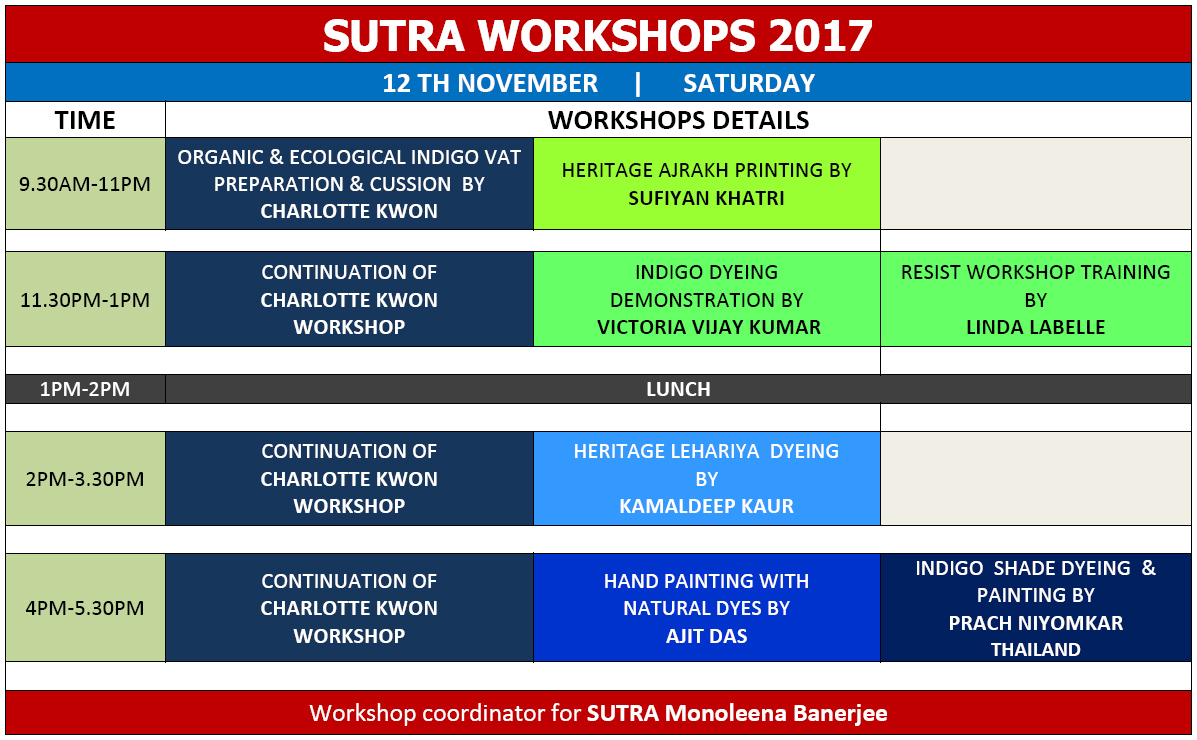 exhibition
Neel Sutra
Something Old
something New
something Borrowed
something Blue
Indigo has been produced and traded globally for thousands of years, and since the late 18th century nowhere more so than in Bengal.
Exploring its tainted past in Bengal, this exhibition highlights the current resurgence of Indigo and promotes its viability as a non-exploitatitve commodity that is economically, artistically, socially and commercially sustainable.
Neelambari
A collection of contemporary works celebrating the rich diversity and artistic expressions of Indigo.
Auction Notice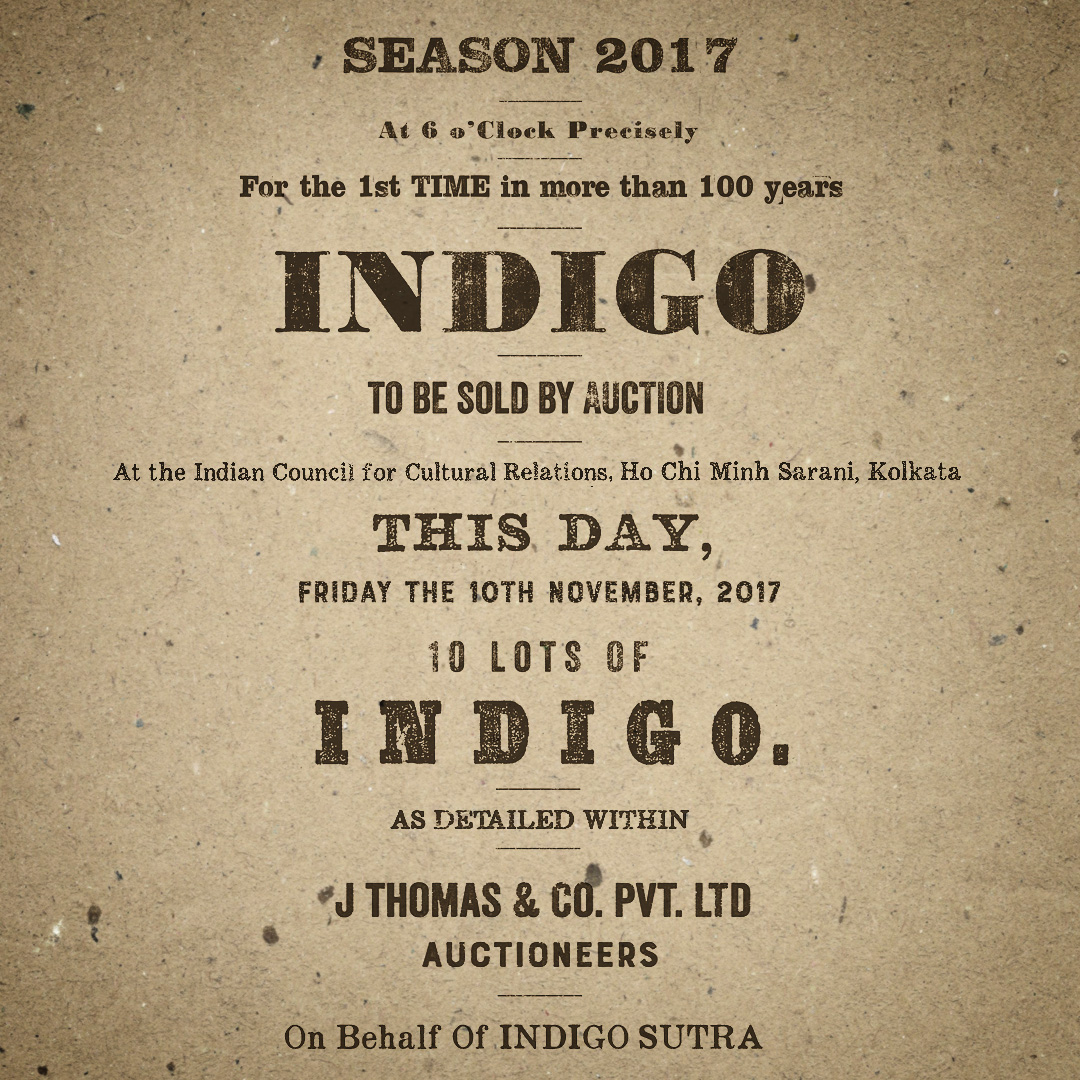 THE GRAND BAZAAR
Aavaran Udaipur
ALAMWAAR
Aranya Naturals
ASAL
AVANI
By Loom
TARANGA SHIBAPRIYA
DESHAJ
Divya Sheth
Elan
HARIDRA
Hind Natural Dyes
Indigo Eth
INDIGO GUATEMALA
JOHN GILLOW
JAYPORE
Neelgar Kamaldeep Kaur
KAPAAS KOLKATA
Karomi
KASHMIR LOOM
LIVING BLUE
LOVE FOR THE LOOM
Maku
Malkha
MURA COLLECTIVE
NATURALLY ANURADHA
MEI RAMEW WEAVES
Nirupama Academy
PANKAJA SETHI
Papri Textiles
Parbat Kanji Vankar
PAROMITA BANERJEE
PEOLI
PRACHEEN
ROLI BOOKS
Royal Brocade
RWITVASTRA
Saanchi Siddhi Creations
SAFI CRAFTS FROM THE HEART OF JORDAN
Sasha
Shamji Vankar
Sidr Craft
SIMON MARKS
SOHAM DAVE
SREE DEVI HANDLOOMS
SRI GOVIND ARTS BAGRU
SUFIYAN KHATRI
VRIKSH
WEAVERS AND DESIGNERS
WEAVERS STUDIO
SUTRA SHOP
TOURS & TRAVEL
Sutra Textile Tour – Main Tour
PHULIA | MAHESHGANJ | KALNA | SANTINIKETAN
(An overnight tour can be arranged to Phulia - Maheshganj - Kalna only)
PHULIA
DAY 1
6th NOVEMBER 2017 - MONDAY KOLKATA – PHULIA – MAHESHGANJ
After an early breakfast in Kolkata ( from 06.00 - 07.00 ) we will drive for about 3 hours to Phulia for Tangail jacquard weaving and Jamdani work, visit a traditional sari shop owned by a national Jamdani award winner and learn about different techniques. We will also see indigo dyeing of yarn and yardage.
Phulia specialises in a combination of jacquard and jamdani work while Shantipur is known for superfine dhotis and jacquards. Shantipur – Phulia region has over 125,000 handlooms, producing Shantipuri, Tangail, and Jamdani handloom sarees with a variety of cotton, tussar and silk yarns.
We will then drive to Balakhana Estate in Maheshganj for lunch, which earlier used to be an indigo planter's bungalow. The rest of the afternoon is left open to walk around the gardens and the nearby river, or to simply relax on the verandah with a cup of tea.
Overnight – Balakhana Bungalow
Meals – Lunch and Dinner
DAY 2
7th NOVEMBER 2017 - TUESDAY MAHESHGANJ – KALNA – Santiniketan
After an early breakfast ( from 07.00 - 08.00 ) we will drive to Kalna to see the finest jamdani weaving.
We will then drive to Santiniketan which will take approximately 3 and half hours, stopping en route at Saktigarh for lunch. In Santiniketan we will meet the 'kantha' workers from nearby villages.
Overnight – The La Sonajhuri or The Garden Bungalow
Meals – Breakfast, lunch and dinner
DAY 3
8th NOVEMBER 2017 - WEDNESDAY Santiniketan – KOLKATA
After breakfast ( from 08.00 - 09.00 ) we will go to see a natural dye workshop with a local artist. We will then go and see the process of batik resist.
After lunch we will visit a local pottery workshop and other places of interest in Santinikitan. We will then drive back to Kolkata.
Overnight – Own arrangements
Meals – Breakfast and lunch
Tour Cost – INR 13500/- all-inclusive per person for a twin sharing basis for 8 – 15 persons
** Triple sharing reduction INR 900/- per person
NOTE – TOUR WILL BE OFFERED AGAIN ON THE 13th, 14th, & 15th of NOVEMBER 2017
Included :
Accommodation for two nights on full board basis
A knowledgeable textile tour leader
Air conditioned Tempo Traveler for transportation
Meals as per itinerary
Workshops as mentioned in the program
Taxes
NOT INCLUDED :
Personal expenses
Medical costs, gratuity, beverages, water etc. over dinner, alcohol, laundry
SUTRA TEXTILE TOUR – Santiniketan ONLY
DAY 1
11TH NOVEMBER 2017 SATURDAY KOLKATA – Santiniketan
After an early breakfast ( from 07.00 - 08.00 ) we will drive to Santiniketan which will take approximately 3 and half hours, stopping en route at Saktigarh for lunch. In Santiniketan we will meet the 'kantha' workers from nearby villages.
Overnight – The La Sonajhuri or The Garden Bungalow
Meals – Lunch and dinner
DAY 2
12TH NOVEMBER 2017 SUNDAY Santiniketan – KOLKATA
After breakfast ( from 08.00 - 09.00 ) we will go to see a natural dye workshop with a local artist. We will then go and see the process of batik resist. After lunch we will visit a local pottery workshop and other places of interest in Santiniketan.
We will then drive back to Kolkata.
Overnight – Own arrangements
Meals – Breakfast and lunch
Tour cost INR 9500 all inclusive per person on twin sharing basis for 8-15 persons
Included :
Accommodation for one night on full board basis
A knowledgeable textile tour leader
Air conditioned Tempo Traveler for transport
Meals as per itinerary
Workshops as mentioned in the program
Taxes
Not Included :
Personal expenses
Medical costs, gratuity, beverages, water etc. over dinner, alcohol, laundry
Please contact Mr Avijit Sarkhel directly:
Desk Phone: +91-11-47512262
Mobile Phone: +91-981 833 0707
Contact Email: vana@vanasafaris.com
Website: www.vanasafaris.com